Industrial electrical installations - with no ifs or buts.

To ensure faultless production, your manufacturing systems must function smoothly, without any ifs or buts. Our customers' desire for a contact partner for all aspects of industrial electrical installation is not only understandable, and we are more than happy to oblige.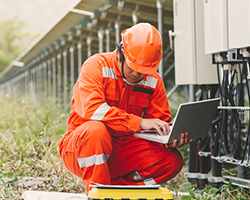 Reliable partners are essential for industrial installation. In order to achieve faultless production, manufacturing plants must function smoothly, with no ifs or buts, because there is much more at stake such as jobs and companies futures. Our customers' requests for a contact partner for all aspects of industrial electrical installation are very clear, and we are more than happy to oblige. Our motto: We follow our customers everywhere, promptly, globally and assuredly.
Individual solutions for every production process
Where should the power flow, and when? We are a service provider for all electrical matters. SGS develops individual solutions for every production process from planning to commissioning, including material deliveries. Materials for cable runs? We'll organize it with pleasure!
The SGS plus: Synergy effects
Because we also carry out mechanical installations, SGS customers benefit from interface-free installation work in their plant. We coordinate the entire installation process with all preparatory work and the overall engineering, and this releases our customers. If necessary, we can carry out the assembly work in tandem, without hindering each other. Our customers save valuable time and we are also able to complete projects with tight schedules punctually. We see this especially with orders in an international context. Where assembly and installation projects are outsourced to several companies, the process becomes more complicated with waiting periods for handovers, damage transfers lead to unnecessary discussions. Such hindrances are immediately dismissed when a specialist company such as SGS coordinates everything and ultimately completes the project on schedule.
Skilled work is quality work
We install, everyone benefits. We deliver skilled workmanship that is perfectly tailored to our customers' individual requirements. Experienced site managers and competent foremen who ensure Austrian quality standards work shoulder to shoulder with locally recruited personnel, even under particularly challenging working conditions. A synergy that ensures that projects progress to plan in every phase which, in our view, has been proven for years and valued by our customers for years.
Our services
Installation of cable support systems & Conduits
Cabling & connection work up to I/O checks
Laying of control, trailing & Power cables
Installation of earthing & Equipotential bonding systems
Control cabinet production
Realization of measurement & Control systems
Work on transformers & Generator plants
Implementation of power transmission systems (Bus Duct)
Work on low & Medium voltage systems
We are at home in these industries:
Wood
Wood-based materials
Rock/Earth/Cement
Metal
Energy
Environmental engineering
Logistics
Mechanical Engineering & Automotive
Our offer encompasses the installation of electrical equipment, the setting up of machines, plants and production lines as well as their complete relocation to other sites worldwide.
May 2019