On behalf of Rettenmeier in Wilburgstetten, we took charge of the mechanical assembly of one of the most modern large-scale sawmills in Europe. Rettenmeier is expanding its existing plant in Wilburgstetten, Bavaria, with this new sawmill. Our references include almost all the well-known, large-scale wood processing companies in Germany and Rettenmeier has enabled us to cover another white spot on our map. For such a large and complex project as in Wilburgstetten, up to 90 SGS employees provided safe, professional and on-time assembly.
The individual construction areas
Our SGS team assembled the Linck sawmill infeed and sawing line in Wilburgstetten, Germany, the assessment of the 3 lines, the inclined multi-level sorter for the side cuts as well as the two single-board flat tray sorters for main cuts and re-sorting, stacking and packaging for main cuts and side cuts as well as re-sorting. The fully automatic batten handling system, the external infeed and the package handling system complete the scope of services.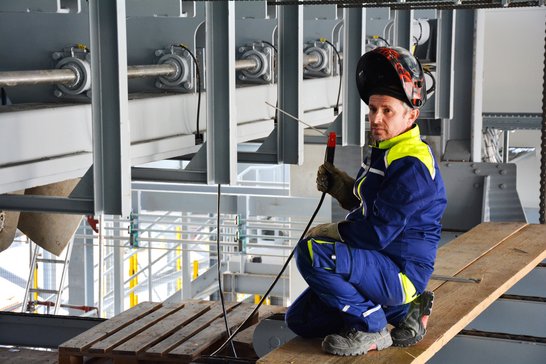 The most modern sawmill
The new sawmill produces climate-friendly wood products of the highest standards, thereby combining resource efficiency with innovation and progress. The 62-hectare sawmill with a processing capacity of up to 1.3 million cubic metres produces wood products for timber construction and the DIY sector.
Project data
Commissioner

Rettenmeier

Customer

Rettenmeier

Industry

Construction location

Wilburgstetten, Germany

Contruction period

14 months, August 2020 – September 2021

Contributors

90

Scope of delivery & service

Mechanical assembly of a complete sawmill.
Weltweit Projekte termingerecht
& professionell abwickeln.