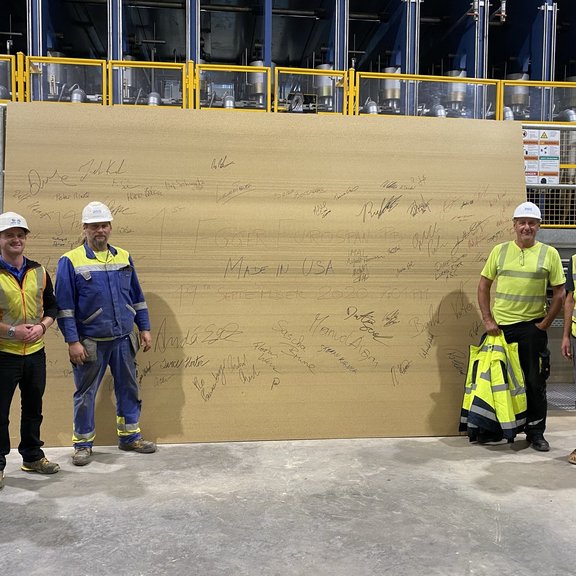 Egger: First panel produced at the new particleboard plant in North Carolina
Assembly work for our SGS team on the site began in August 2019 and now we can proudly announce and congratulate Egger to their first particle board production completed at their new site in North Carolina. Employees both from SGS and Egger signed the first particleboard panel, celebrating the significant milestone as the first panel underwent the final stages of production.
Project completed on schedule
To report on a successfully completed project makes you particularly proud, especially when everyone is satisfied, and everything works smoothly. At the beginning of this month, the first laminated board rolled of the press at the new plant. Last week, the first raw particleboard production is completed on schedule, marking a major milestone. Despite the ongoing corona crisis, our project team and our assembly team have managed to finish the project on schedule. We are thankful for all the dedication, flexibility, and commitment of our team to this great project. It shows once more that our customers can count on us even in challenging times and are serviced satisfactorily.
The assembly work
Our SGS team started in August 2019 with the mechanical assembly of the new particle board plant. Mechanical assembly encompassed the entire plant form wet chip preparation, truck dumper to silo discharge plus conveyor technology, two drum dryers, dry chip preparation including screening and sifting, hurriclone system, glue mixing station and gluing, forming and press line 10 ft, finishing line, a high bay rack (140mx24mx33m) and extraction systems. As a total industrial service provider, we also undertook the electrical installation of the gluing, forming and press lines. At peak times up to 250 SGS workers were on the site. Experienced specialists form Europe paired with specialists from our Atlanta subsidiary, as well as locally recruited workers guaranteed an efficient and qualitative workflow.