We continue to educate ourselves - for top performance in all our services

SGS Academy | In April, two seminars were held at our headquarters in Dorf an der Pram. On April 13, 2022, colleagues from the electrical department were trained in the assembly of medium-voltage terminations. The next day, after a break due to corona, the traditional SGS seminar for assembly managers/senior fitters in the field of electronics was on the program.
"Constantly educating ourselves and training colleagues is particularly important to us at the SGS Academy. Practical exercises are of great importance and help to incorporate what has been learned directly into the existing working methods."

Seminar "Installation of medium-voltage terminations"
In the one-day seminar, our colleagues were brought up to date with the latest technology. 9 assembly professionals from our electrics team took part in the training.
The seminar schedule included:
Lecture "Cable and accessories technology"
Installation training 10-30 kV termination
1 or 3 conductor plastic cable
SGS Electrics site manager/senior fitter seminar
Highly motivated, as on the previous day, 16 executives from assembly and project management took part in the seminar.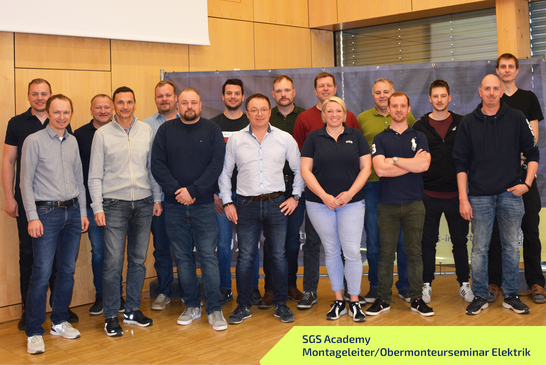 "This seminar is a tradition at the SGS Academy. Therefore, we are particularly pleased that we were able to hold a face-to-face seminar again after the corona-related break."
The on-site appointment was used to learn more about occupational safety, construction site organization, purchasing and tools, personnel management and construction site tools, among other things. The managing directors then gave an outlook on planned further developments, as well as on current and future assembly projects.
"This year, the focus was on occupational safety and digitization of the assembly processes. In addition to further training, the focus of this SGS Academy event is on personal exchange between the teams deployed around the world and on team building. Finally, our colleagues were able to demonstrate their marksmanship in the Innviertel shooting center."