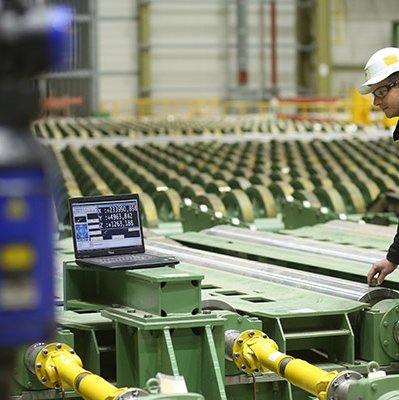 SGS Industrial Surveying: precision meets perfection

Exact surveying that ensures highest levels of accuracy, assembly quality and project safety.
This means that our customers benefit from minimum downtime, reduced overall costs and successfully completed construction site projects.
As a global company operating on four continents, SGS Industrial Services offers high-quality industrial services that have made a large number of successfully completed projects possible. Surveying Manager Rene Ringer: "Precise surveying technology is a prerequisite for every successful construction site project. SGS Industrial Services offers an experienced team of qualified surveyors with many years of project experience. For this we – internally or at our sub-contractors in the field of industrial surveying – use state-of-the-art surveying technology and top equipment such as Leica total stations, optical-mechanical theodolites, various precision leveling instruments, Optalign shaft alignment systems, Leica laser scanning and laser tracking systems as well as Hexagon portable Romer arm systems." With this perfect package of services, all customers benefit from highest levels of precision in surveying and individual documentation specific to each project.
Services tailored to requirements
Specifically, the industrial surveying service package can be divided into five different areas. 3D surveying by means of total stations delivers an accuracy of up to 0.1 mm. In addition to height and axle settings, we calibrate and adjust mechanical, pneumatic and hydraulic components. The second area comprises laser-optical shaft alignment with an accuracy of 0.01 millimeters. This also includes the calibration of motors, rollers and drives, machines with cardan shafts, horizontal and vertical machines, machine trains as well as documentation using vertical and horizontal views. The third area – 3D laser scanning – provides the system scan, especially during relocations, with two or three dimensional documentation and a scanning accuracy of a few millimeters. This includes a three-dimensional inventory for further planning work, e. g. for pipelines, steel construction or conversions.
Using the fourth area, 3D laser tracking, we guarantee the highest industrial surveying accuracy when it comes to flatness measurements in machine construction and the alignment of mechanical equipment, such as frames, rollers, cylinders, pumps, motors or gearboxes. The fifth and last area is about the portable Romer arm system which gives new meaning to quality assurance, inspection and work piece inspection. Its flexibility and mobility in combination with precision in the hundredth range are outstanding.
Top standards for international projects
Surveying Manager Rene Ringer: "For each new project, we continuously retrain the assembly staff and update their knowledge. Twenty assembly supervisors and chief fitters were trained on industrial surveying technology just in the spring of this year, for example. With such high standard, SGS Industrial Services is able to constantly realize exciting projects. Most recently for AMAG in Ranshofen, for Swiss Krono in Menznau or for our German customer Pfleiderer in Neumarkt. As a global player, we are of course also active around the world, for example for the steel processor Bilstein in Kentucky or the Arauco particleboard plant in Michigan. In all our projects, we always follow our motto Precision meets Perfection!"
OUR SERVICES
Reference network creation & extension
Precision leveling
Foundation surveying / position and height checks
Alignment checks (e.g. anchor bolts); Alignment of motors, rollers and drives; Laser alignment (Optalign Smart RS terrestrial 3D surveying (Leica TS50, Leica TS15)
3D laser scanning (Leica P20)
Deformation monitoring (Leica TS50)
Positioning, setting out in terms of position and height (terrestrial 3D)
Calibration and adjustment of mechanical, hydraulic and pneumatic devices
Documentation / creation of 2D and 3D plans
Laser tracking (Leica Absolute Tracker)
Component inspection (portable Romer arm systems)
November 2017